Hello! My name is Staci Bu Shea (b. 1988, Miami).
I'm a curator and writer living in Utrecht, The Netherlands. My
pronoun.is/they.
Broadly, I focus on aesthetic and poetic practices of social reproduction and care work, as well as its manifestations in interpersonal relationships and daily life, community organizing and institutional practice.
In 2019, I embarked on a study trajectory called
Poetics of Living
with art historian Rizvana Bradley to explore already existing and emerging non-normative forms of living together in consideration of rapidly changing discourses around sexuality, health, communal life, and death. In many ways, this forms the basis of my life practice and my interest in art and culture.
I'm currently working on a transdisciplinary research project called
Dying Livingly
(2021–ongoing), an exploration into what it means to live intimately with death and grief, with artistic and cultural productions that form a bridge with my practice as a holistic death care worker.
Dying Livingly
is an Independent Study Track at the Royal Academy of Art, The Hague (2023-2024) and the title for my forthcoming publication with Sternberg Press (2024).
Since 2019 I help out at a beloved local hospice and in 2020 I received end-of-life care training from Going with Grace. As an end of life guide and death companion, I provide education, guidance and support about death, dying, loss and grief. Eventually I will share more about my services and offerings, but if you need support in the meantime, please get in touch with me.

︎

I teach at Royal Academy of Art, The Hague (
Dying Livingly
, 2023-2024 and
Situated and Dynamic: An Introduction to Curatorial Practice
, 2023) and Sandberg Institute (
Towards Access
, co-taught with Pernilla Manjula Philip, 2022-2023) and have taught at Dutch Art Institute (
All about my mother
, co-tutored with Sepake Angiama and Nina bell F., 2020) and MaHKU, Utrecht Graduate School of Visual Art and Design (
More than Friends: on belonging, access, and safe(r) spaces
, co-tutored with Jeanne van Heeswijk, 2019). I am an external reviewer here and there for graduation work and theses.
︎
I'm a contributor to Metropolis M. Find some of my writing published on their website, including
Against Ageism but also Against Age: An Interview with Simon(e) van Sarloos
(2023),
A New Culture of Accessibility
(with Mira Thompson, 2021),
Learning from Grief
(2021), and
Care in Times of Care
(2020).
︎
From 2017-2022 I worked as a curator at Casco Art Institute: Working for the Commons, an art institution based in Utrecht that focuses on collective art projects and organizational experiments. Together with the team I managed the exhibition program from concept writing and organization to working with artists and designing programs, but was also engaged in other areas of the institution. Noteably I sought to give attention and understanding to what's kept in Casco's analog and digital archive. I also worked to make Casco more accessible by implementing accommodations and fostering a culture of accessibility, testing what's possible for a social, aesthetic experience of care while learning from and working with disability communities.
In the past, I co-curated
Barbara Hammer: Evidentiary Bodies
(2017) at Leslie Lohman Museum of Art (NY) with Carmel Curtis, which
New York Times
art critic Holland Cotter named one of the best exhibitions of that year. I graduated from the Center for Curatorial Studies, Bard College with the group exhibition
Emphasis Repeats
(Andrea Geyer, Barbara Hammer, Alex Martinis Roe, and Tourmaline, 2016) at Hessel Museum of Art (NY). From 2011-2014 I worked as a studio manager and assistant to artist Jim Draper in Jacksonville, Florida.

︎
Selected work
Dying Livingly with AHK Culture Club, 2023 (lecture)
Slochteren grief diary, with het resort and Flora Valeska, 2023 (text)
Is it even possible to arrive alone?, with Maike Statz and Hordaland Kunstsenter team, 2023 (workshop)
Your institution deserves a good death, with Idensitat
, 2023 (lecture)
Grace's hospice from the near future, with bias: bodies in architecture and structures issue 1 empathy, 2023 (text)
Dying Livingly with The Diary as Mourning Genre
, 2023 (writing workshop)
Sweet, sweet fantasy
, with Mira Thompson, 2023 (performance, text)
Dying Livingly with Adelita Husni-Bey
, Valerio, Nathalie, Malin, Margareta, Valentina, and Sara, 2022 (lecture)
CV of Care
/ CV van Toewijding, translated by Flora Valeska for nY50, 2022 (text)
Commoning Accessibility
, with design by Lotte Lara Schröder, 2022 (text)
The Grand Finale
, with Mira Thompson, 2021 (text)
Barn's burnt down–now I can see the moon
, with CA Conrad, Camisha L. Jones, Ching-In Chen, 2021 (curated program)
Access Intimacy
with Mia Mingus, 2021 (curated program)
Dying Livingly with Barbara Hammer,
2021 (lecture)
Het is of de stenen spreken (silence is a commons)
, with Babi Badalov, Ansuya Blom, Ama Josephine Budge, Mire Lee, and the Casco team, 2019 (exhibition)
Two Rubatos
with Terre Thaemlitz, 2019 (exhibition)
Heroic in its ordinariness
, with Elizabeth Atterbury, Beverly Buchanan, Taraneh Fazeli, Feminist Health Care Research Group, Carolyn Lazard, Redeem Pettaway, Falke Pisano, and Sasha Wortzel, 2019 (exhibition)
Army of Love
, with Ingo Niermann, Dora García and more, 2017 (project exhibition)
Age lines
, Kerry Downey, Alexis Pauline Gumbs, Ilyana Ritchie, Mia You, and more, 2016 (exhibition)

︎
Poetry bulletin



Matsuo Basho

- 1644-1694
The cry of the cicada
Gives us no sign
That presently it will die.
—Translation by William George Aston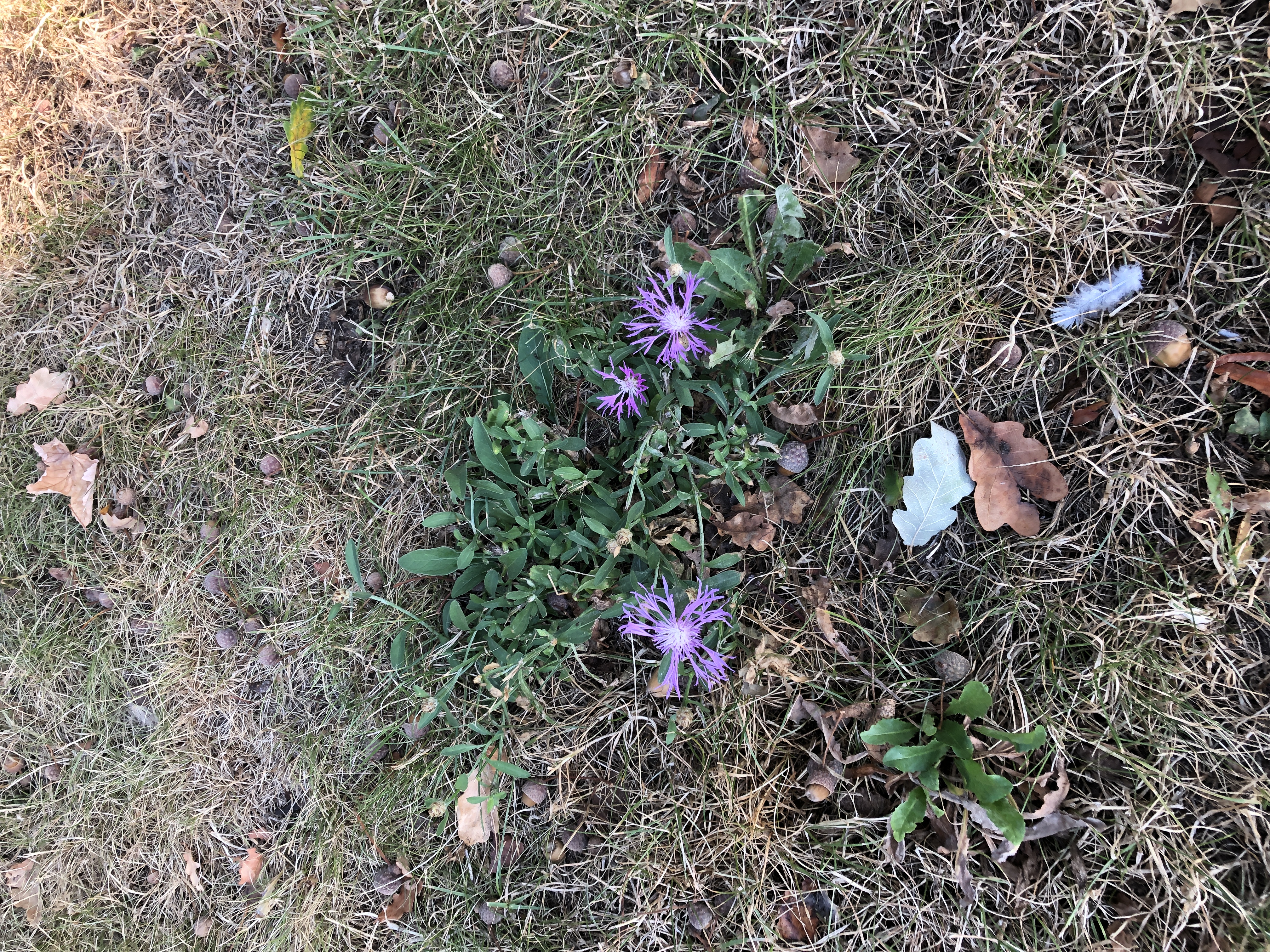 [aerial view of brown knapweed in the dry autumn grass, three spikey purple blooms in a tuff of deep green shrub.]